I'll admit I might love holiday dinner side dishes more than the main course, but sometimes I want to try something new. This recipe is perfect for pairing with a holiday turkey, ham, or roast and adds a new, creamy spin on mashed potatoes. What I love best about this recipe is the creaminess the Hood Sour Cream adds to the unexpected blend of sweet potato and cauliflower flavors. Both the thicker and thinner versions make the perfect holiday side dish and the thinner version would be the perfect base for a luncheon party with a fun toppings bar. Hood Sour Cream is a must for transforming holiday meals from simple to spectacular, and with Hood, I know that I am serving my family a high-quality product that is consistently delicious and creamy every time I use it. 
I'm also all about making my life easier during the holidays and Hood Sour Cream is the perfect ingredient to have in my fridge to make simple dishes holiday special without a lot of fuss. Another way to save time during the holidays is to use any leftovers from this recipe as a delicious, creamy sauce for whole wheat pasta! Just add a little ground black pepper and freshly grated Parmesan, along with a simple side salad and you have a second meal ready to go. Who couldn't use some time back during the holidays?
What I love about this recipe is that it doesn't take up oven or stove space, which is always at a premium around the holidays. Instead, I use my electric pressure cooker to whip up this easy side dish in no time. If you don't have an electric pressure cooker you can use a slow cooker instead. Just set it on high and cook until you can easily stick a fork through the potatoes and cauliflower. This will take several hours.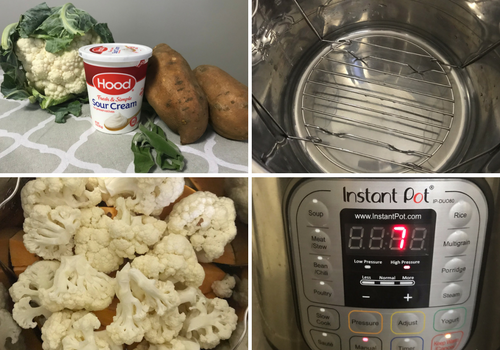 ​
Creamy Mashed Sweet Potatoes and Cauliflower

Serves: 8+

Ingredients:
4 medium sweet potatoes
1 medium cauliflower
1 tsp table salt
8 oz Hood Sour Cream

Optional -
Fresh sage or chives

Directions:
1. Peel and chop sweet potatoes.
2. Remove leaves and chop cauliflower.
3. Add 2 cups of water to the bottom of your pressure cooker and add the steamer rack or basket.
4. Place the sweet potatoes on top of the steamer rack. 5. Place the cauliflower on top of the sweet potatoes.
6. Set your pressure cooker on high pressure for 7 minutes, according to your pressure cooker's directions, and use a natural release.
7. When all of the pressure is released, remove the steamer rack or basket. For thicker mashed potatoes, drain the excess water. For thinner, soup-like potatoes leave the water in the pot.
8. Add salt and blend potatoes and cauliflower together with a stick blender, hand mixer, blender or food processor to desired consistency.
9. Stir in Hood Sour Cream.
10. Serve as is or top with fresh sage or chives.

The author was compensated for this recipe. All opinions are her own.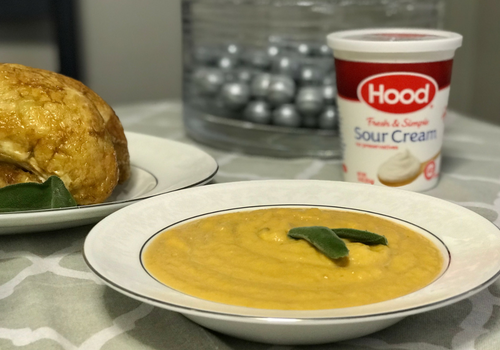 ​