We boil them, we dye them, we hunt them, and then we have to eat them. At our house, we usually hard-boil about 2 dozen eggs for Easter. After the kids have two or three, I find the eggs hanging out in the fridge not getting eaten. What's a mom to do? Get creative of course! Here are some ideas for different ways to use up all of those hard-boiled eggs:
Pickled eggs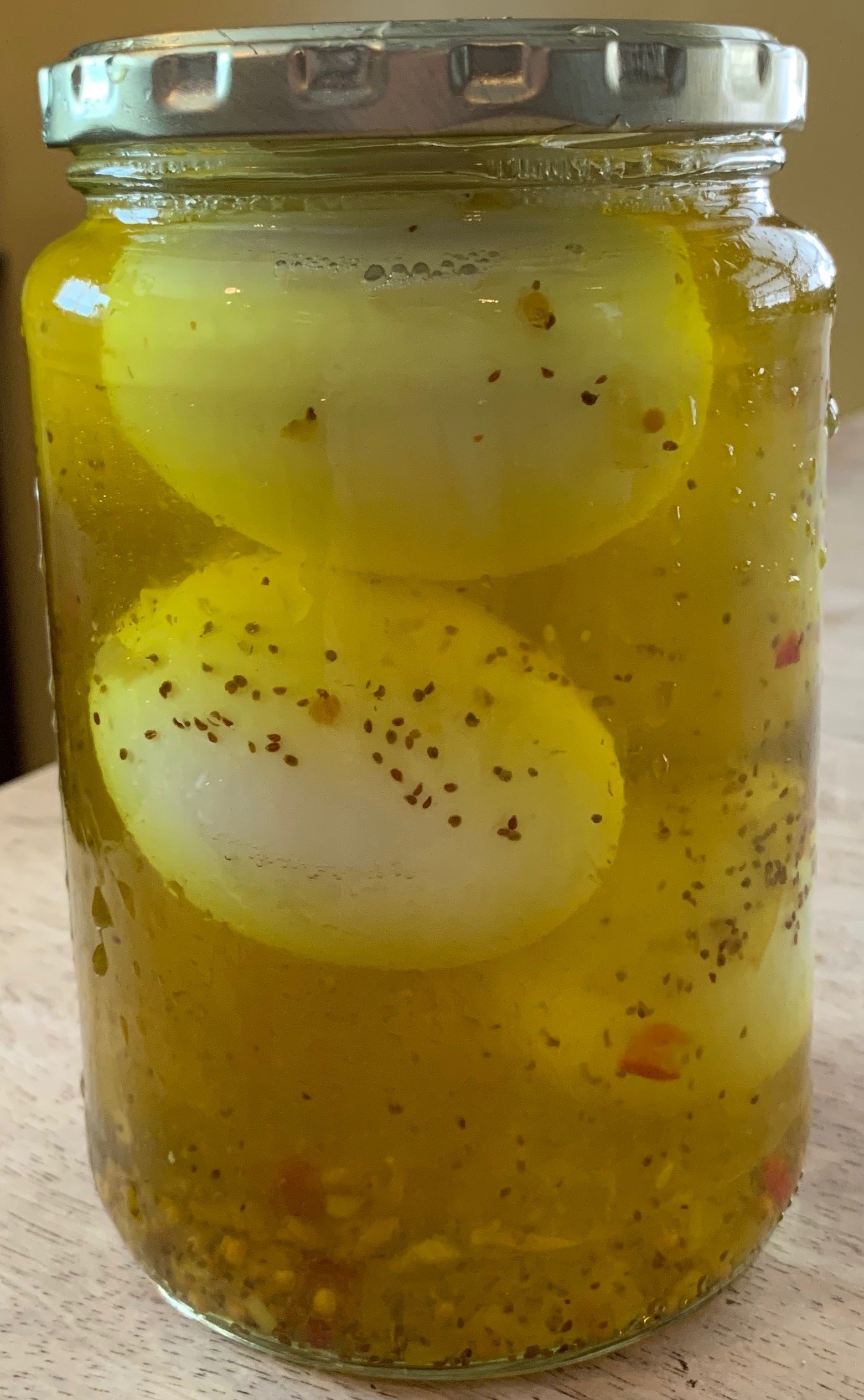 Save your pickle and pickled pepper juices and use the brine to pickle your eggs!
We eat a lot of pickled banana pepper slices and pickles in our house. When we run out, we save the leftover juice from the jars and combine it all into one jar.
Simply add the eggs to the juice and let sit a few days! You'll find they come out perfect, with a tangy pepper kick. A little salt and pepper and they are a great snack alone or chopped on an Italian salad.
Pickled beets and eggs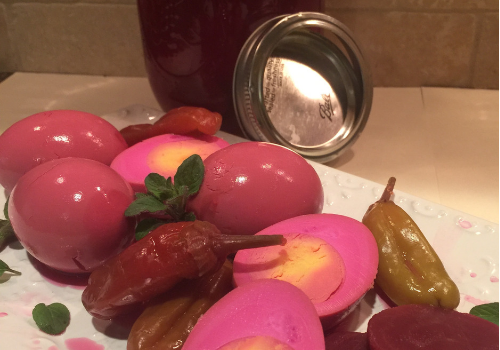 My husband LOVES sweet and spicy pickles. He likes to combine leftover sweet pickle juice and banana pepper juice with a can of beet juice and then add the hard-boiled eggs. Sometimes he even adds the peppers!
Let brine for three days and they will have a beautiful color to them -- and they will taste even better. Don't have pickle juice available? No worries, we've gotcha covered with this recipe:
Ingredients:
8 hard-boiled eggs
1 15 oz. can of sliced beets with juice
1 small halved and sliced onion
1 cup apple cider vinegar
1/2 cup water
1/4 cup sugar
1 tsp. salt and a dash of pepper
Optional: pepperoncini's for a little kick!
You can also add cloves and bay leaves to your liquid for a more authentic "Pennsylvania Dutch" style beet egg.
Directions:
Put peeled hard-boiled eggs, beets, and onions in a glass bowl and set aside.
In a saucepan, combine other ingredients and bring to a simmer. Cook until sugar is dissolved, about 5 minutes.
Pour liquid over eggs immediately. Cover and let sit for 2 hours.
Refrigerate for at least two days before serving.
Egg Salad Tomato Cups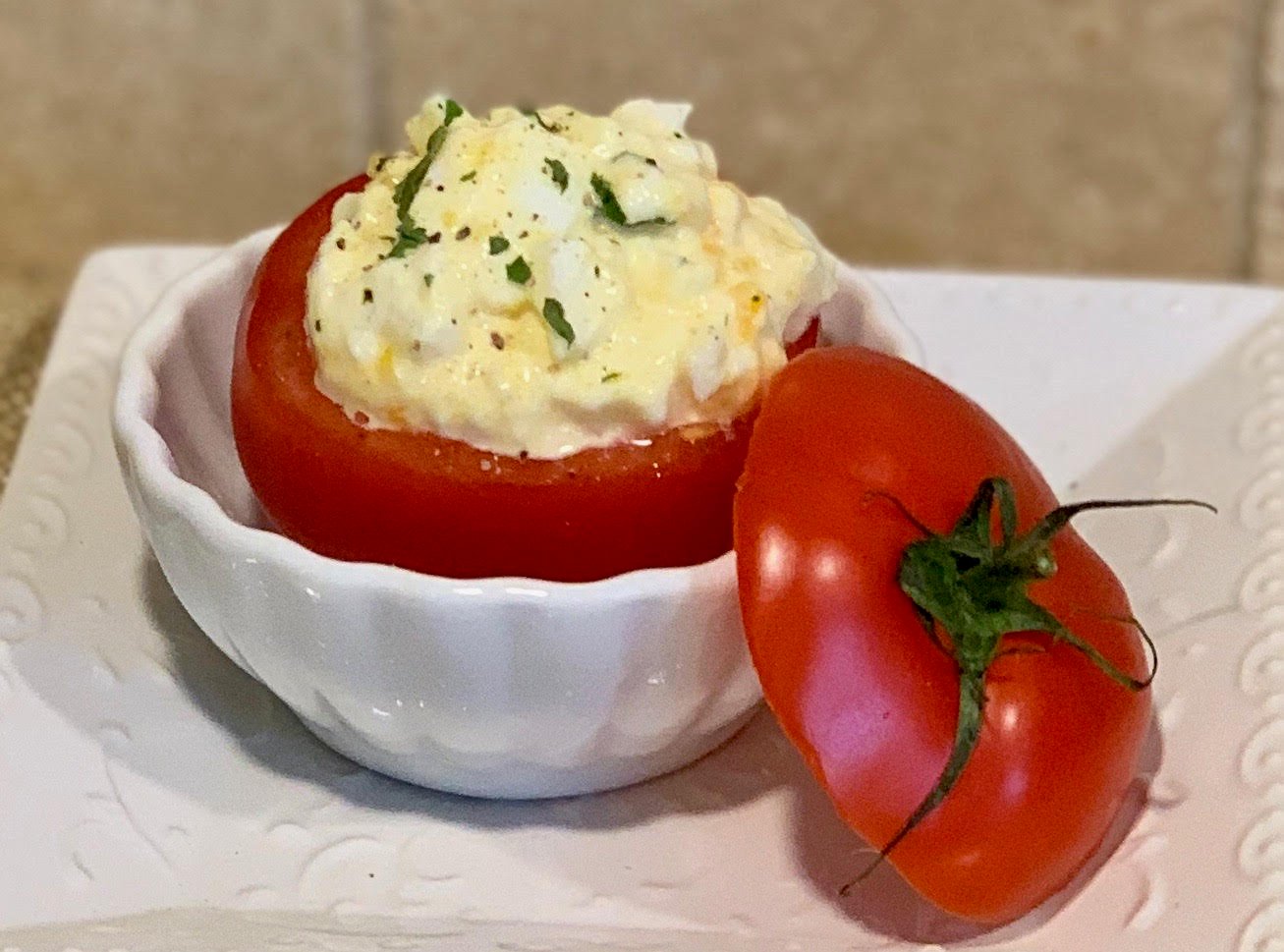 This one is easy: Make your favorite egg salad recipe out of the leftover hard-boiled eggs. Then scoop out small vine ripe tomatoes to make a "bowl." Fill your tomatoes with your egg salad and serve!
Smashed hard-boiled eggs and avocado on crackers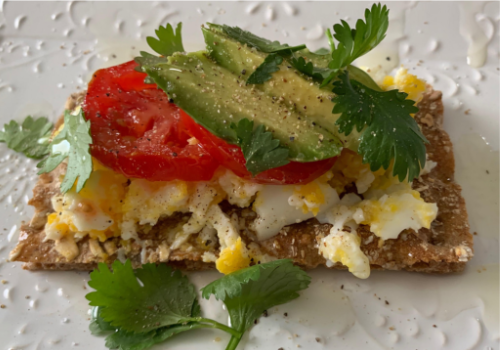 Smash your egg on a multi-grain cracker (we used Wasa). Top with sliced avocado, sliced tomato, fresh cilantro, drizzle with olive oil, and top with cracked pepper and sea salt. Delish!
Baby Yoda Deviled Eggs
If you have someone in your house who loves this cute, younger version of the ancient Jedi Master, they will adore these Baby Yoda inspired deviled eggs! Click HERE for the recipe.
Other ideas for your leftover hard-boiled eggs:
Chop eggs and sprinkle over a salad.
Finely chop eggs and add them into a homemade Caesar dressing.
Chop eggs and add them to your meatloaf mixture.
Make deviled eggs
Chop and add eggs into a cold macaroni and pea salad
How to make the perfect hard-boiled egg
Should we back up a bit? Are you still working on making the perfect hard-boiled egg?
Here's how to do it:
Place eggs in a medium-sized pot and cover with cold water.
Bring eggs to a boil, turn off heat, and cover with lid.
Let sit in hot water for 15 minutes.
Voila! The perfect hard-boiled egg. Egg-cellent.
🌸🌸🌸
More Macaroni Kid content we think you'll like:


















Make Bunny Waffles




Kids will love to make this bird feeder




7 apps our kids love, and we do too