Father's Day is right around the corner and we are here to inspire you with a few out of the ordinary recipes and gift ideas!
Fill his tummy at home with one of our picks below!
Not sure what to gift dad? We have a list that has something for even the toughest pop to shop for!

Recipe Ideas for Dad

Creamed Chipped Beef over Toast Points
This is an old staple of a creamed chipped dried beef gravy over toast that was served in all branches of our military ... commonly known as "💩 on a shingle". Although serving the chipped beef over toast is traditional, it can also be served over bagels, biscuits, baked potatoes, hashbrowns, french fries, mashed potatoes, and even as a casserole base. Over the years this menu item has been harder to find throughout the country, but you are in luck because it is super easy to make. So if you've heard your dad talk about this delicacy over the years, this is the perfect time to make it for him!
Ingredients:
2.5-ounce package or jar of dried beef (for less salt, rinse and dry beef)
2 tablespoons butter
2 tablespoons flour
1 1/3 cup of half and half
1 teaspoon Worcestershire sauce
1/2 teaspoon fresh cracked pepper
pinch of freshly grated nutmeg or 1/4 teaspoon dried nutmeg
6 slices of bread, toasted and buttered
Directions:
Cut dried beef into small pieces.
In a skillet over medium to medium-high heat, cook beef in butter for a few minutes.
Stir flour into butter for about 1 minute.
Turn heat down, pour in half and half, and continue to whisk until there are no lumps and it's thickened and bubbly.
Stir in Worcestershire sauce, pepper, and nutmeg.
Serve over toast and enjoy!


Carnivore and cheese board
Who doesn't love a good charcuterie board? If you follow us on Instagram, you will see that they are one of our faves! Charcuterie boards can be plated to fit any occasion -- and that includes Father's Day! Brunch it up by serving a Carnivore and Cheese Board with all of dad's favorites. Get creative and throw in brisket and a sliced baguette, with a side of his favorite bbq sauce for dipping. Or how about sliced smoked kielbasa with swiss cheese and spicy mustard?
Ingredient ideas:
Hard and soft cheeses
Salami
Pepperoni
Beef jerky
Summer sausage
Prosciutto
Bacon
Brisket
Crackers
Pork rinds
Olives
Pickles
Peppers
Grapes
Strawberries
Mustards, honey, and bbq sauce for dipping
Directions:
Anything goes! Get a large plate, board, or just throw some craft paper on your kitchen table. Arrange food in an antipasto-style or in groupings.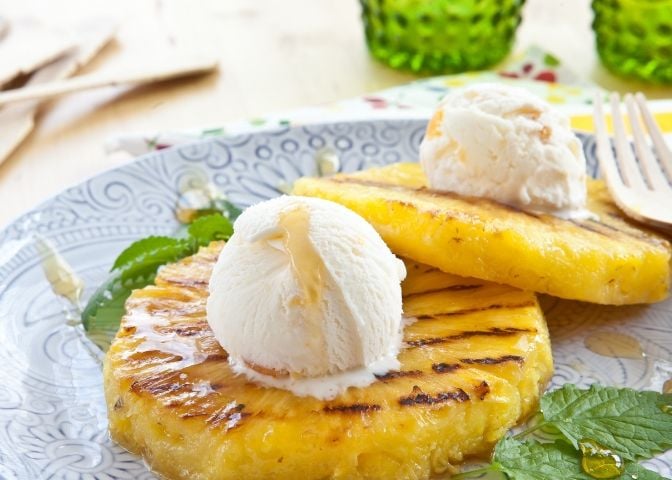 Grilled Bourbon Glazed Fruit
Nothing says Father's Day like firing up the grill! Surprise him with grilled fruit kabobs — glazed with BOURBON! (Don't worry, you can leave out the bourbon if you'd like and they'd be just as tasty!)
Ingredients:
Favorite fruit, cubed into 2-inch pieces (we like peaches, pineapples, and apples)
1/4 cup bourbon
1 stick of butter
1 cup brown sugar
1 lemon, juiced
1/4 cup water
1/4 teaspoon cinnamon
Directions:
In a saucepan over medium heat, combine bourbon, butter, sugar, lemon, water, and cinnamon. Stir continuously over a low simmer for 4-5 minutes. Remove from heat and let cool for 5 minutes.
Put fruit and the bourbon glaze into a bowl and stir until fruit is covered with glaze.
Place fruit on the grill and turn once when grill marks appear.
Serve with whipped cream or ice cream.

Gift Ideas for Dad


Now that you have some recipe ideas for Father's Day let's move onto the gift!
Here are 3 other gifts ideas for the foodie dad in your life:
1. Salami Bouquet
Move over flower arrangements for mom, there's a new kid in town called meat bouquets!
Head to the grocery store and collect all of his meaty favorites. Ask your local butcher for a few feet of butcher paper, wrap up your salamis in a twine bow and you're good to go!
2. Take Along Grill Stand
We are a beach family and grilling on the beach is a summertime favorite. But lugging all the stuff sure can hinder all the fun -- am I right? This Take Along Grill Stand from Cuisinart is the perfect solution for the foodie dad. It keeps everything organized and sand-free and even has a spot on the cooler for his cold "refreshments!"
3. Heat for the HOT Dad
We tasted some of the most intricate hot sauces at New Orleans Pepper Palace. Our favorite was the Ghostly Garlic Fusion Hot Sauce. Don't live near NOLA? You can order the Ghostly Garlic Fusion Hot Sauce online!
We hope these recipes and gift ideas help make your Father's Day a special one!
🍴🍴🍴
Want to be part of our foodie family?