I am in love with quinoa. Like, I feel like quinoa and I have a relationship. Quinoa, a grain that is rich in protein, is the perfect base for so many of my favorite creations.
Quinoa (pronounced keen-wa) derives from Peru and is often referred to as the "little rice." The people of Peru -- the Incas -- named the grain "chisaya mama" or the Mother of all grains.
I'm not the only one who loves it: Even as food trends come and go quinoa remains a popular superfood.
I love its light fluffy base and how easy it is to prepare. Here's my favorite way to make quinoa:
Ingredients:
1 cup quinoa
2 cups broth (our fave Is BOU broth!)
1 teaspoon each salt and pepper
Directions:
In a medium saucepan, boil 2 cups of broth and then add rinsed quinoa.
Add 1 teaspoon of salt and pepper.
Cover, reduce heat to medium and simmer till water is absorbed. This typically takes about 15 minutes (all stovetops vary).
Set aside, uncover, and let the quinoa cool.
Fluff your quinoa with a fork. This is the key to preparing quinoa!
Continue to watch your Quinoa, and fluff with a fork or a small spatula as needed.
This Pampered Chef spatula is my favorite tool to fluff my quinoa!
Here are three recipes with quinoa my family loves:
Greek over Quinoa
Ingredients:
Quinoa, cook as directed
Jar of roasted red peppers
15 black Greek olives
6 balls mini fresh mozzarella
1 teaspoon salt
1 teaspoon pepper
Directions:
Cook quinoa as described above.
Drain the roasted red peppers, slice.
Slice the Greek olives.
Slice the fresh mozzarella.
Add the ingredients in a small bowl.
Salt and pepper to taste.
Served on a bed of romaine lettuce.
Italian Tossed Quinoa
Ingredients:
1 large white onion, diced
1 red pepper, diced
2 cups mushrooms, diced
3 teaspoons chopped garlic
1 teaspoon pepper
1 cup olive oil
2 teaspoons salt
2 teaspoons pepper
1/2 teaspoon red chili flakes
1 bunch of scallions sliced and chopped
Directions:
Cook quinoa as described above.
Combine all ingredients and serve cold!
Fresh Summer Quinoa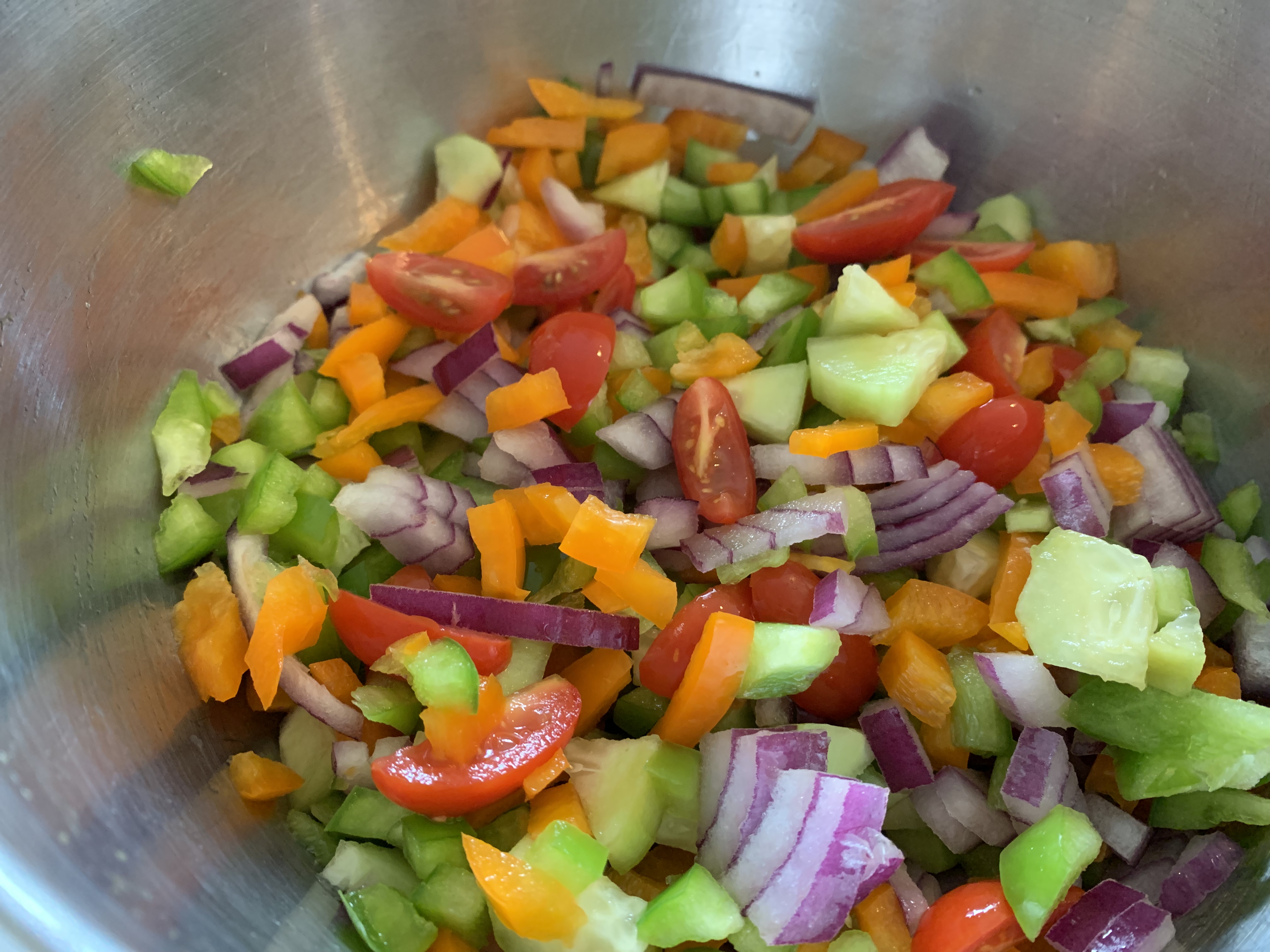 Ingredients:
2 cucumbers, sliced and quartered
3 cups cherry tomatoes, quartered
1 yellow bell pepper, seeded and chopped in 3/4-inch pieces
1 green bell pepper, seeded and chopped in 3/4-inch pieces
1 cup diced red onion
½ cup chopped fresh mint
½ cup chopped parsley
3 teaspoons of garlic
1 cup extra virgin olive oil
3 lemons, zested and juiced
Salt and pepper
Directions:
Prepare quinoa as described above.
Add sliced cucumbers, cherry tomatoes, yellow peppers, green peppers, and red onion to a medium bowl.
Add the juice of the three lemons, the olive oil, mint, garlic and parsley.
Salt and pepper to taste.
Combine the vegetables with the quinoa.
Cover and refrigerate for at least one hour.
Serve cold and enjoy!
Love quinoa? Check out these other recipes:
Sign up today to receive our free monthly Macaroni Kid EATS newsletter!