Two words.
Baby Yoda.
The Disney+ show The Mandalorian has created the cutest new character that is taking over the internet and social media by light years.
If you have someone in your house who loves this cute, younger version of the ancient Jedi master, they will adore these Baby Yoda inspired deviled eggs! Out of this world oohs and aahs are coming your way if you make these for Star Wars-themed parties -- or really any kind of gathering.
Ingredients:
16 large hard-boiled eggs, peeled
3-4 Tablespoons mayonnaise
2-3 Tablespoons dijon mustard
1 teaspoon onion powder
1 teaspoon salt
1 teaspoon white pepper
1 teaspoon green food coloring (we used all-natural)
Dried dill for "hair"
24 black olive pieces for "eyes" (we used a small straw to cut the eyes out)
Celery for "ears"
Directions:
1. Cut hard-boiled eggs in half. Carefully remove yolks and put them into a separate bowl. Set the whites aside.
2. Mix together yolks, mayonnaise, mustard, onion powder, salt, pepper, and food coloring. You want it to be a smooth consistency that will roll into a ball. You may need to add a little more mayonnaise and mustard if it's too dry.
3. Scoop out about a tablespoon of the mixture and roll it into a ball. Do the same for a total of 16 yolk balls. Set aside.
4. Place 16 egg white halves onto a platter. Place a yolk ball in each half so it's sitting toward the back of the egg.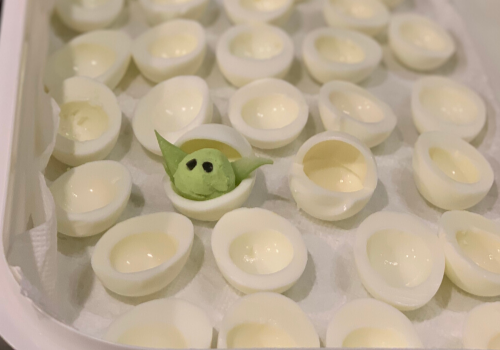 5. Sprinkle dill on top for hair and add two pieces of black olives for eyes. Cut celery in the shape of ears (small triangles) and attach.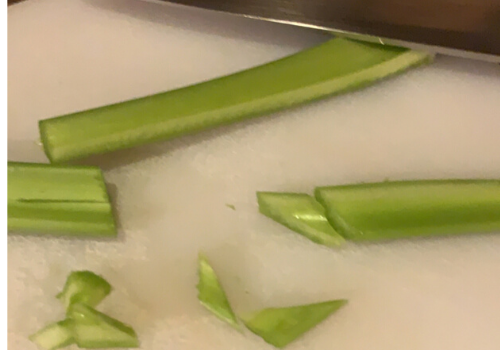 6. Put a dab of the yolk mixture onto the back of the egg to glue on the top of the "carriage."
7. Cut the remaining egg white halves in half and place on top of the filled whites, creating Baby Yoda's carriage.
May the force be with you ... in the kitchen and beyond.