Many of us have extra food in our pantry or fridge and just don't know what to do with those ingredients.
We thought it would be fun for YOU to tell us what you have and we would give you a complete recipe based on your ingredients. Don't hold back, the weirder the better!
Our first recipe challenge of "What's in your pantry?" is from Nicole Donnelly, our Macaroni Kid Annapolis, Maryland publisher.
She gave us the following 5 ingredients:
Shrimp
Spaghetti squash
Onion
Artichokes
Crushed tomatoes
Here's the recipe we came up with:
Twisted Shrimp Diablo with Artichoke Hearts
Ingredients:
3 tablespoons olive oil
1/4 cup onion, diced
1 tablespoon basil (dried or fresh)
1 pound peeled shrimp
1 tablespoon garlic, chopped
1 can of quartered artichokes; drained
1/2 cup red wine
Salt and pepper, to taste
1 can of crushed tomatoes
1 teaspoon red pepper flakes (more if you like it hotter)
One spaghetti squash
Directions:
Set oven to 350 degrees. Drizzle a cookie sheet with olive oil.
Halve and de-seed the spaghetti squash and sprinkle inside with a little olive oil, salt, and pepper. Place face down on the cookie sheet and cook for 20 minutes.
While the squash is cooking:
Add olive oil to a saucepan.
Add onions and garlic and let them soften and lightly brown. (about 3-5 min)
Add red wine and red pepper flakes. Let it bubble. (about 3 min)
Add tomatoes, basil, and the can of drained artichokes.
In a separate pan, melt 1 tablespoon of butter and a dash of olive oil.
Add and cook shrimp for about 5-7 minutes, or until pink and cooked through.
Remove the spaghetti squash from the rind with a fork and divide between plates. Top with sauce and shrimp. Finish with more fresh basil if you wish.
Kudos to Nicole - here is her picture of the dish she made from our recipe - she added Parmesan cheese - why didn't we think of that?
Her family loved it!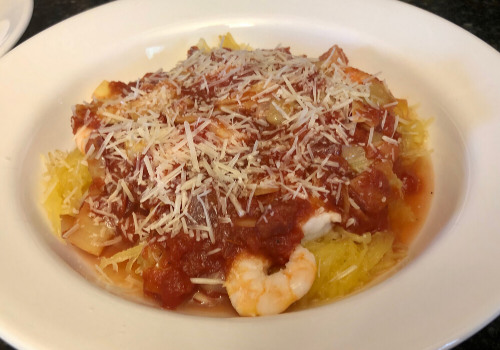 Picture credit: Nicole Donnelly
Want to join in on the fun? Like Macaroni Kid on Facebook & join us for our Wednesday "What's in Your Pantry?" post. Comment on the post if you have ingredients you'd like us to make a recipe out of!