Hard-boiled eggs make a great snack because they are full of essential vitamins ... plus they're delicious!
Top hard-boiled eggs with these delicious veggies for a fun and complete snack kids will devour.
Ingredients: (suggestions - but use what you have!)
Hard-boiled eggs, sliced
Toast
Cucumbers (julienned)
Capers
Tomatoes sliced or chopped
Fresh spinach
Celery sliced
Black olives
Canned beets
Carrots (julienned or peels)
Scallions chopped or cut length wise
salt and pepper
Directions:
Place vegetables in small bowls.
Slice toast into 4 pieces.
Spread avocado on toast and top with cucumber if using.
Add a slice of a hard-boiled egg to each piece of toast.
Give kids the bowls of vegetables to design their own funny egg faces!
Salt and pepper to taste and enjoy!
Egg Faces are a fun craft a snack for the kids to put together. Don't have ingredients in your cabinet mentioned here? Experiment with avocado, roasted red peppers, peas and more!
Fun Tips:
*Use a metal straw to cut perfect circle eyes! (we used capers, black olives and beets for our eyes in the picture above)
*Make crazy hair by slicing scallions length wise, but leaving one end connected. Place in ice water for a few seconds and watch your "hair" curl!
Check out Dante's (Erika's son) funny faces - aren't they fun?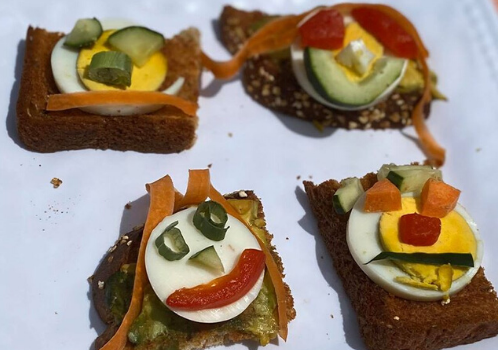 🍴🍴🍴
Want more ways to bring giggles to the kitchen?