The Thanksgiving meal, and all the planning that goes into it, makes the November holiday one of our favorites each year. For us, it's all about the planning, the phone calls, the spreadsheets of dishes, and the banter of families around the table that make the memories of this special day.
Year after year, Aunt Helen brings her green bean casserole and Uncle Mickie complains about it. Every year you hear the story about how Suzie burned the turkey. Those stories and the people who tell them are what inspire us to keep our family's favorite Thanksgiving recipes and traditions going.
Many of us will have smaller than usual Thanksgiving gatherings this year because of the pandemic, but we hope you still celebrate and still take the time to make your favorite Thanksgiving recipes -- even if you're cooking together virtually!
To inspire you, we wanted to share with you six of our favorite Thanksgiving side dishes. Sweet cranberry sauce, savory stuffing, a pumpkin torte ... why do we only save these for special-occasion meals? Here are some of our favorite recipes from Macaroni Kid EATS featuring Thanksgiving side dishes that will make you want to go back for seconds:
---
Cornucopia Charcuterie Board
By Charlotte Linde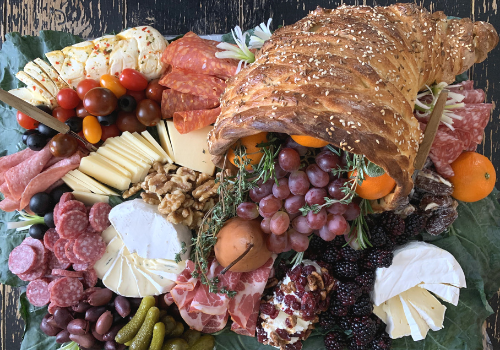 I love my charcuterie boards — and this one is sure to impress this Thanksgiving. One year we were invited to a "friends-giving" and they asked me, the Italian girl, to bring a salad. A salad! So, I made sure to add a few salad ingredients to this beautiful board — let's just say they won't ever ask this Italian girl to bring a salad again. This cornucopia basket is not only easy to make, but it is also beautiful. Move over turkey — this cornucopia charcuterie board is taking over your centerpiece duties.
Ingredients:
3 containers (11 oz) of refrigerated soft breadstick dough
1 egg
1 tablespoon water
Everything Bagel seasoning
Non-stick cooking spray
Heavy-duty tin foil
Assorted cheeses, meats, berries, olives, nuts, vegetables, spreads, and herbs


Directions:
Preheat oven according to breadstick package directions
Spray cookie sheet with non-stick cooking spray
Form the shape of a cone with heavy-duty tin foil and curve the bottom
Spray the outside of the cone with non-stick cooking spray
Beat the egg and water in a small bowl
Separate the breadsticks and start wrapping them around the tinfoil cone, starting from the tip and working your way up, pinching each end together as you go
Keep wrapping the cone until you have about an inch or so of foil left and 3 strips of breadsticks
Pinch the top of the remaining breadsticks together and braid
Wrap the braid around the top of the basket and pinch ends together
Brush "basket" with egg wash and sprinkle with Everything Bagel seasoning
Bake until golden brown
Let cool completely and stuff just before putting on display or serving
Impressive, right? No one has to know how easy it actually was and you will never be asked to bring a salad again.
But if they really want a salad? You can turn this into the most impressive crudites platter.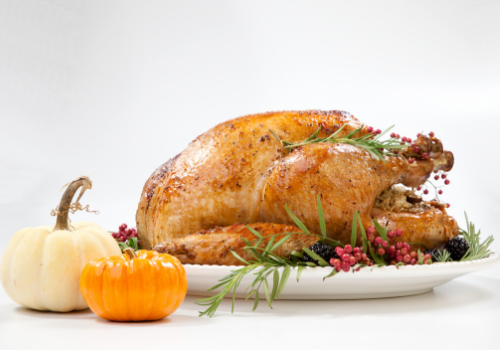 Looking for more Thanksgiving inspiration? See our Complete Guide to Thanksgiving!

Grand Marnier Stuffing
By Erika Veduccio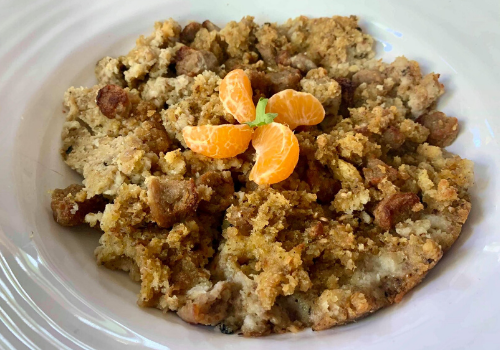 November hits and the family starts talking about Thanksgiving. It's the hottest topic at the November family functions. All the aunts start arguing (I mean talking) about who's hosting, who's bringing what and what's going to be in the recipe.
I can hear them now, "Nanccccy, are you going to bring the ham?"
"Winnie, are you making that stuffin' that tastes like oranges?" (Pronounced AWWWRENGEZ, of course.)
I feel so lucky that my mom, Winnie, is the one who makes the stuffing. She makes it ahead of time and the house just smells so delicious. We are not allowed to eat it before the big turkey day. But who you kiddin'? We are all elbow deep in that deliciousness when she's not looking. Thus the reason she always doubles the recipe!
Ingredients:
2 cups Grand Marnier
1 large orange
1 cup butter
1.5 pounds ground pork sausage
2 pounds herb stuffing mix (or save your sliced bread and freeze it!)
2 cups chicken broth
2 cups celery finely chopped
1 large onion finely chopped
1 teaspoon dried thyme
1 teaspoon oregano
Salt & freshly ground black pepper
Directions:
Place the orange and 1 cup of the Grand Marnier in a small saucepan. Heat to boiling. Remove from heat and set aside.
Melt 1/2 cup butter in a large skillet over medium heat. Add the celery and onion and saute for 10 minutes. Add the sausage, and break it up as it cooks. Cook the onion, celery, and sausage until the sausage is browned.
Add the stuffing mix to the orange with the liquid. Stir to combine.
Heat the remaining 1/2 cup butter and chicken stock just until the butter melts. Pour over the stuffing mixture and add the remaining 1 cup of Grand Marnier. Stir well to moisten the stuffing, adding the thyme, oregano, salt, and pepper to taste.
Bake stuffing in a large buttered casserole at 325 degrees for 30-35 minutes.
Use the stuffing to stuff your turkey. You should have enough left over for a small side dish.
---
Bacon and Balsamic Brussels Sprouts
By Erika Veduccio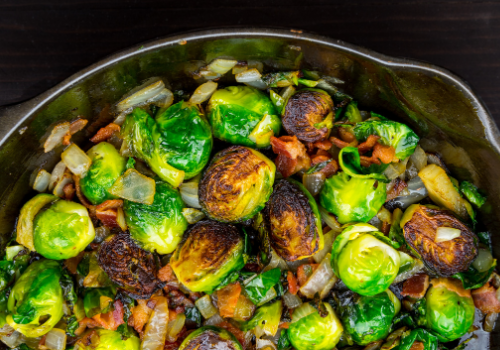 Brussels sprouts are that one veggie growing up that I always cringed when my mom announced it as a side for dinner. "Ick" was always my first response. And guess what? Now it's my kids' answer too. My house, my rules, right? Ha. At least I can try. So in an effort to always have "something green" at the table, I will be making this delicious recipe. I mean, who doesn't love bacon?
Ingredients:
1.5 pounds of fresh Brussels sprouts, cut in half
3 tablespoons olive oil
3 tablespoons butter
1/4 cup balsamic vinegar
3 tablespoons minced garlic
1/4 cup chopped onion or shallots
1/2 cup dried cranberries
4 slices of bacon, cooked and chopped
Salt and pepper to taste
Directions:
Preheat oven to 425 degrees. Lightly grease a baking sheet.
In a medium bowl, combine olive oil, vinegar, and cranberries and set aside for 10 minutes to soften berries.
Melt butter in the microwave.
Add all ingredients to bowl and toss well.
Transfer and spread evenly onto the prepared baking sheet.
Bake for 20 minutes or until Brussels sprouts are soft and have golden edges.

For a good giggle: Don't miss Thanksgiving Bloopers: What Memories Are Made Of

Homemade Whole Cranberry Sauce
By Heather Williams

Cranberries are a very tart fruit and most products like cranberry sauce and cranberry juice have a large amount of added sugar. After testing several ways of making homemade cranberry sauce with less sugar, I came up with a simple recipe that is the perfect combination of sweet and tart. This recipe uses 100 percent juice instead of water and less sugar than a typical recipe. You can change up the flavor by using different types of juice, adding zest (orange, lemon, lime), and/or different spices.
Ingredients:
1 package fresh cranberries (12 ounces)
1 cup 100% juice - we typically use pomegranate blueberry juice
1/2 cup sugar
Directions:
Rinse cranberries in cold water and remove any stems.
In a medium pot, combine cranberries, juice, and sugar.
Cook over medium-high heat, bringing mixture to a boil.
Boil for about 5 minutes or until most of the berries have popped open. Be sure to stir often.
Carefully pour cranberry sauce in a bowl and set aside to cool.
Serve once cool or store in refrigerator. Cranberry sauce will naturally thicken as it cools.
Carefully taste-test sauce as it boils. If you prefer a sweeter sauce, you can add additional sugar.
---
The Ultimate Thanksgiving Dessert: Pumpkin Torte
By Laura Miller

Some of my fondest memories with my Grandma are baking together, second only to playing cards with her and Great Grandma. Grandma was known for her baked goodies and you could count on her to bring a dessert to every gathering. Now that she's gone, I've found myself stepping into that role. With lots of time to think and bake lately, I've been planning the perfect non-pie dessert to make for Thanksgiving. I recently made a chocolate torte for my son's birthday that my Grandma used to make and was inspired to create a pumpkin version. My kids say it's even better than the chocolate one, and when my sister tasted it, she said, "You need to write this one up!" So by request, here's my pumpkin torte recipe.
Before you get started, here are a few notes:
If using gluten-free flour, you might want to use a little less flour or a little more butter if you find your favorite flour blend tends to be dry.
You can finely chop almonds, or any nut of your choice, instead of buying almond flour.
Homemade whipped cream is amazing in place of the premade whipped topping, but they both taste great. If you do it yourself, use 16 oz. whipping cream and 1/4-1/2 cup sugar, depending on how sweet you like it.
Use half a can of pumpkin for a little pumpkin flavor or a whole can for a lot of pumpkin flavor. I tasted it after I mixed in half a can and decided to use the whole thing.
Ingredients:
For the crust:
1 1/2 cups flour
1 cup almond flour
3/4 cup butter, melted
For the first layer:
1 8 oz package cream cheese, softened
1 cup powdered sugar
1 cup whipped topping
For the second layer:
2 packages vanilla instant pudding
2 1/2 cups milk
1 can pumpkin puree
1 tsp ground cinnamon (or more to taste)
1/4 tsp nutmeg (or more to taste)
For the topping:
The remainder of whipped topping
Cinnamon to dust over the top
Directions:
1. Make the crust: Preheat oven to 325°F. Mix flour, almond flour, and butter. Press into the bottom of a 9x13-inch pan. Bake for 25 minutes or until it begins to brown. Remove from oven and cool completely.
2. Make the first layer: Mix cream cheese, powdered sugar, and 1 cup whipped topping. When the crust is completely cool, spread over crust. You may wish to chill each layer for 20 minutes before adding the next one.
3. Make the second layer: Mix pudding and milk together well. When the pudding begins to thicken, mix in the pumpkin and spices. Spread over the cream cheese layer and chill if needed to make spreading the whipped topping easier.
4. Add the topping: Spread the rest of the whipped topping over the pumpkin mixture and lightly dust with cinnamon. Chill for at least 2 hours before serving.
---
Noodle Kugel
By Diana Cole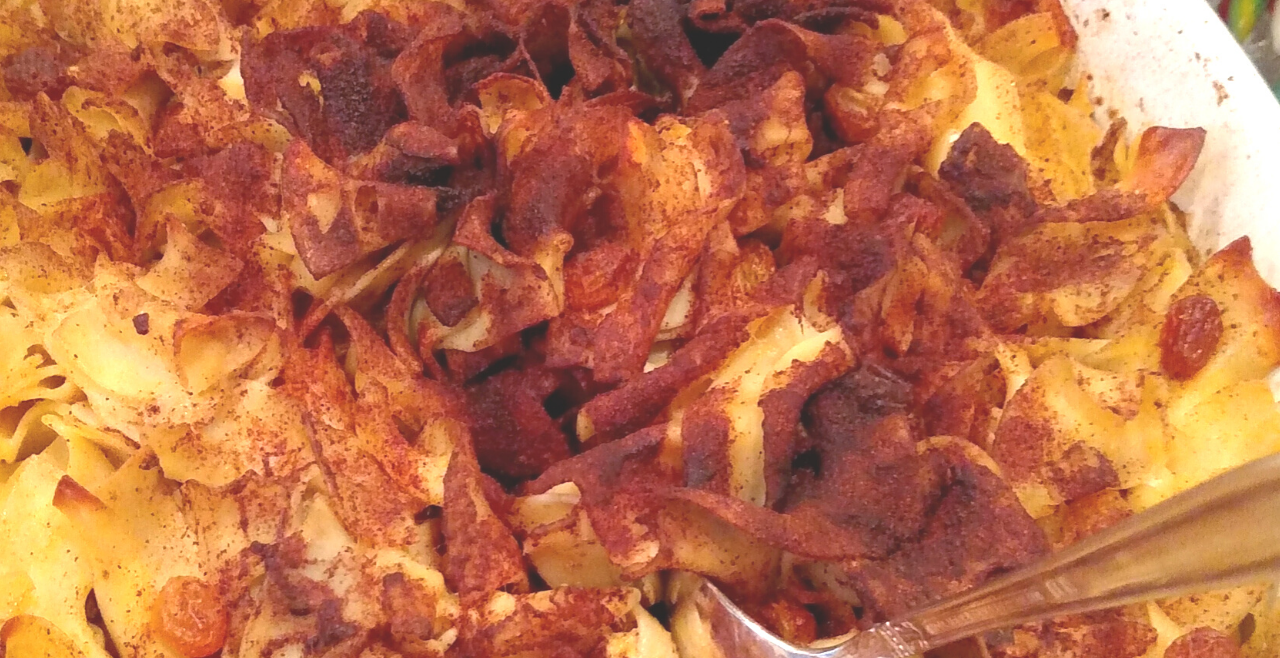 Noodle kugel is a traditional Jewish dish served typically on Shabbat and holidays. There are both sweet and savory versions and dozens of versions of both. Macaroni Kid Sandy Springs-Dunwoody, Ga. Publisher Diana Cole shared this noodle kugel recipe with us. She says her family loves this sweet version with raisins and applesauce. You can prepare this dish the day before Thanksgiving and then bake the day of the holiday.
Ingredients:
1 package of egg noodles
6 eggs
1 cup applesauce
1 cup raisins
2 sticks of melted butter
Cinnamon sugar to taste
Directions:
Preheat oven to 350 degrees.
Boil egg noodles as directed.
Scramble eggs in a large bowl.
Mix butter, applesauce, and raisins into eggs.
Fold in noodles and cinnamon sugar.
Pour into casserole dish.
Sprinkle with cinnamon sugar.
Bake at 350 for 45 minutes.
---
🍽🍽🍽
Need more Thanksgiving ideas?