When my kids were young, we enjoyed dinner together at the table almost every night, and Sundays were non-negotiable. I imagined us gathering around the table spending that special time together to catch up for years to come. Fast forward a decade and my littles are now teens who are very active in sports, which makes it nearly impossible for all of us to be together each night at the same time. Add to that my son is a senior this year and between our busy work schedules and shift changes, we are lucky to have one night at the dinner table at al. I barely have time to feed myself, let alone meal prep for the week. Cooking is one of my passions and I really love being in the kitchen, but Father Time has just not been on my side this year.
My kids are self-sufficient in the kitchen and are used to a few "fend for yourself" nights, but the mom guilt sets in, and honestly, no matter how much I want them to choose to eat healthy, it's not unusual for me to witness meals of ramen with a side of Taki's escaping the kitchen. They come home from school or in between sports HANGRY, so of course they will grab things that are the easiest and quickest to grab, prepare (or not), and eat.
Enter Freshly – a prepared meal subscription service that offers fresh, not frozen, single-serving meals that you simply just heat and eat. Freshly is just not any prepared meal service, they prepare healthy, all natural, chef-cooked meals that are shipped directly to me. Yes, please!
I grabbed the teens and let them pick out their own meals, and with so many options available of foods they already crave and love, they chose pretty quickly. Ordering our meal plan was simple, either through their convenient app or online with a computer. Our meals arrived in a box cold and ready to be added to our fridge to easily grab, heat, and eat
Freshly is clever with their recipe names like "Crave-No-More Shepherds Pie" and "Turkey Meatballs & Zoodles" and I enjoy their sneaky simple vegetable swaps. The kids didn't even realize they were eating Loaded Cauliflower "potatoes." All of Freshly's meals have less sugar, are minimally processed, and have many dietary options like the 'Purely Plant' menu category for my vegan daughter to grab and eat in between her many dance classes.
Looking for a low carb option? No problem. Gluten free? Available. Dairy free? Soy free? You betcha. Freshly has lick-the-dish options for just about everyone.
I've tried meal kits, and they are great... if you have the time to cook them. Takeout is nice too, but let's face it, it's fast food and pricey. Freshly sends my family fresh, single-portioned meals that I can feel good about giving my growing teens. For mom, with over 50 different recipes to choose from, the only hard decision is choosing which meal goes best with my glass of wine. You can order 4, 6, 8, 10 or 12 meals per week starting at $8.99/each making it easy to customize depending on how many are in your family.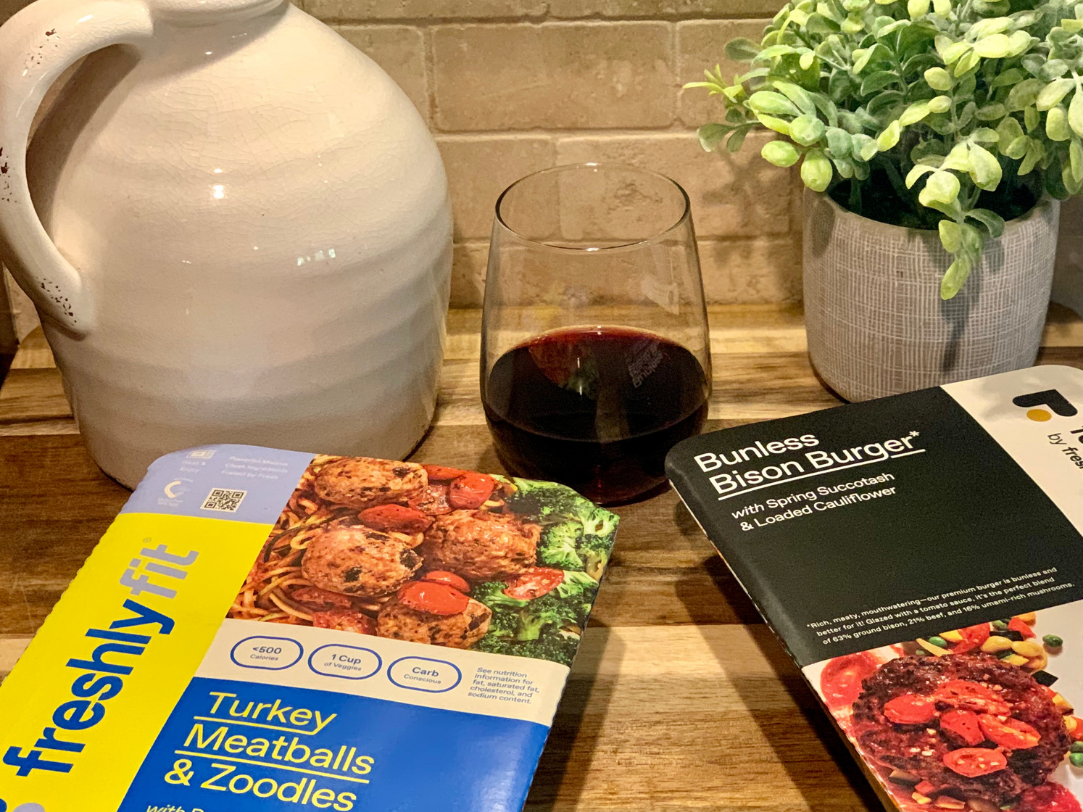 If you are looking for a guilt-free, time-saving, nutritious, life saver, from a FRESH food delivery service, give Freshly a try today.
The author was given Freshly meals for purposes of a review. All opinions are her own.