I've been an almond milk lover for quite some time. I started using it in my coffee, then found myself adding it to my cereal, and now I'll often pour myself a nice cold glass to drink as a pick-me-up. I'm in love with the taste and now prefer it over cow's milk.
After learning that fillers and sugars are added to the brands I buy the most, I began making plant-based milk at home. My blender is up to the task, but to be honest, I am not a big fan of the messy process of straining and squeezing the milk out of the mesh bag.
When I was first introduced to the Almond Cow Plant-Based Milk Maker, I was intrigued. I dove into the website, scanned their social media pages, perused a few articles for insight, then volunteered to review their product for Macaroni KID. I was hooked the moment I ordered the Almond Cow Starter Set. I even stalked their website daily to watch the progress of my shipment and began to crave the recipes I'd soon be making with my Almond Cow.
---
Milking with the Almond Cow
The Almond Cow makes the experience of making plant-based milk easy and fun. The entire milking process is quick, from the time you load the ingredients, press the button, let it run (which takes less than a minute), pour into the glass jug, and finish with the simple steps of rinsing out the machine. I love knowing I can whip up a fresh batch with the touch of a button, no straining involved - and save money while doing it. Want to see it in action? Almond Cow has put together a video showing just how quick and easy it is to use! Click here to watch.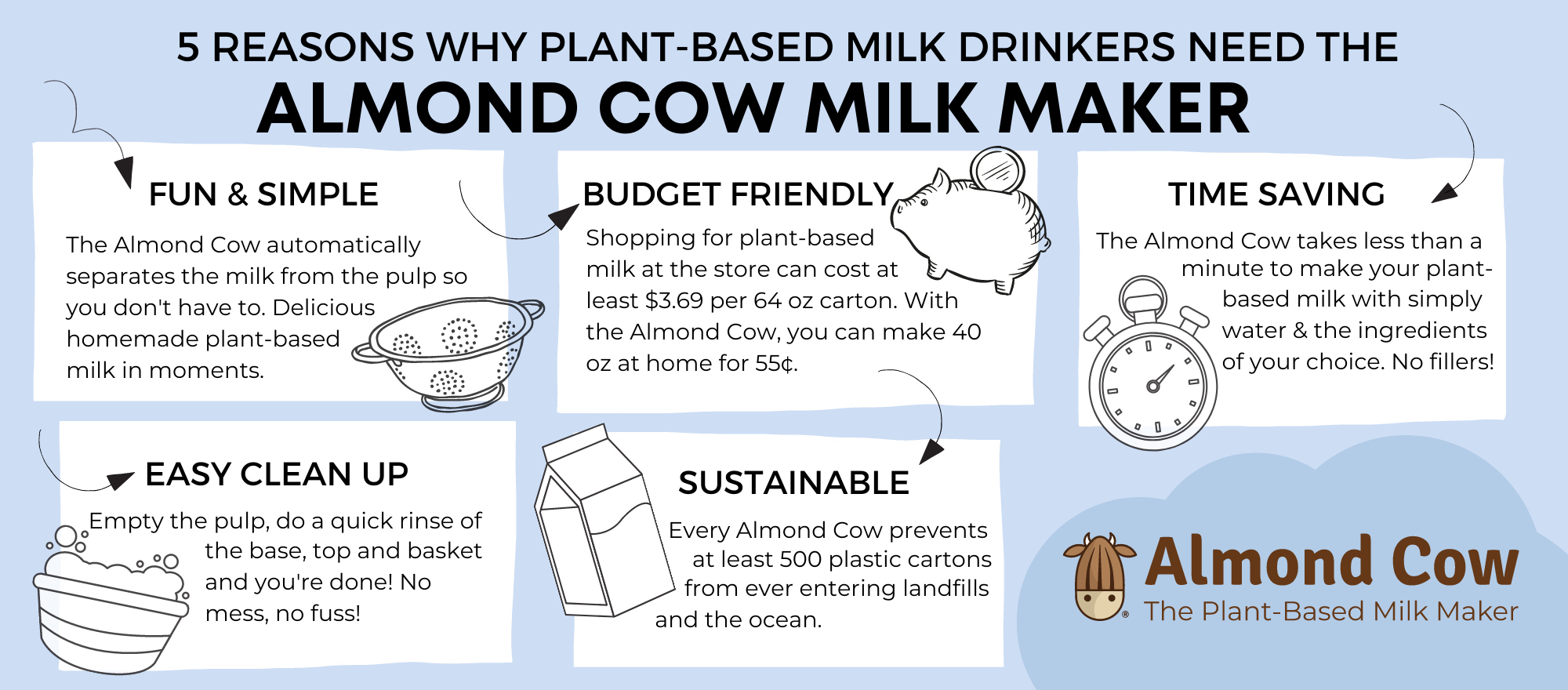 Image created in Canva by Julie Dikken
---
Almond Cow Starter Set - Includes everything needed to start milking!
The starter set comes with everything. Literally, everything you need to begin your plant-based milking journey (To be 100% accurate, they don't ship the water, but that should be something most households have on hand, right?)
Ingredients: You select your ingredients from their selection of top quality making ingredients. Choose from Bulk Organic Coconut Shreds, Bulk Organic Cashew Pieces, Bulk Bee-Friendly Almonds and Bulk Organic Whole Grain Oats. I ordered one of each so I could try all the recipes as soon as my shipment arrived!
Almond Cow Plant-Based Milk Maker: The Almond Cow Plant-Based Milk Maker is a handsome looking stainless steel appliance that will make 5-6 cups of plant-based milk out of any nut, seed, or grain with the touch of a button. Better yet, with no mess at all.
Accessories: Your set will come with the Almond Cow Glass Jug - which I find adorably "farmhouse chic" - complete with an airtight snapping cap. Also included is the Glass Jug's best friend - the 13 inch curved jug cleaning brush.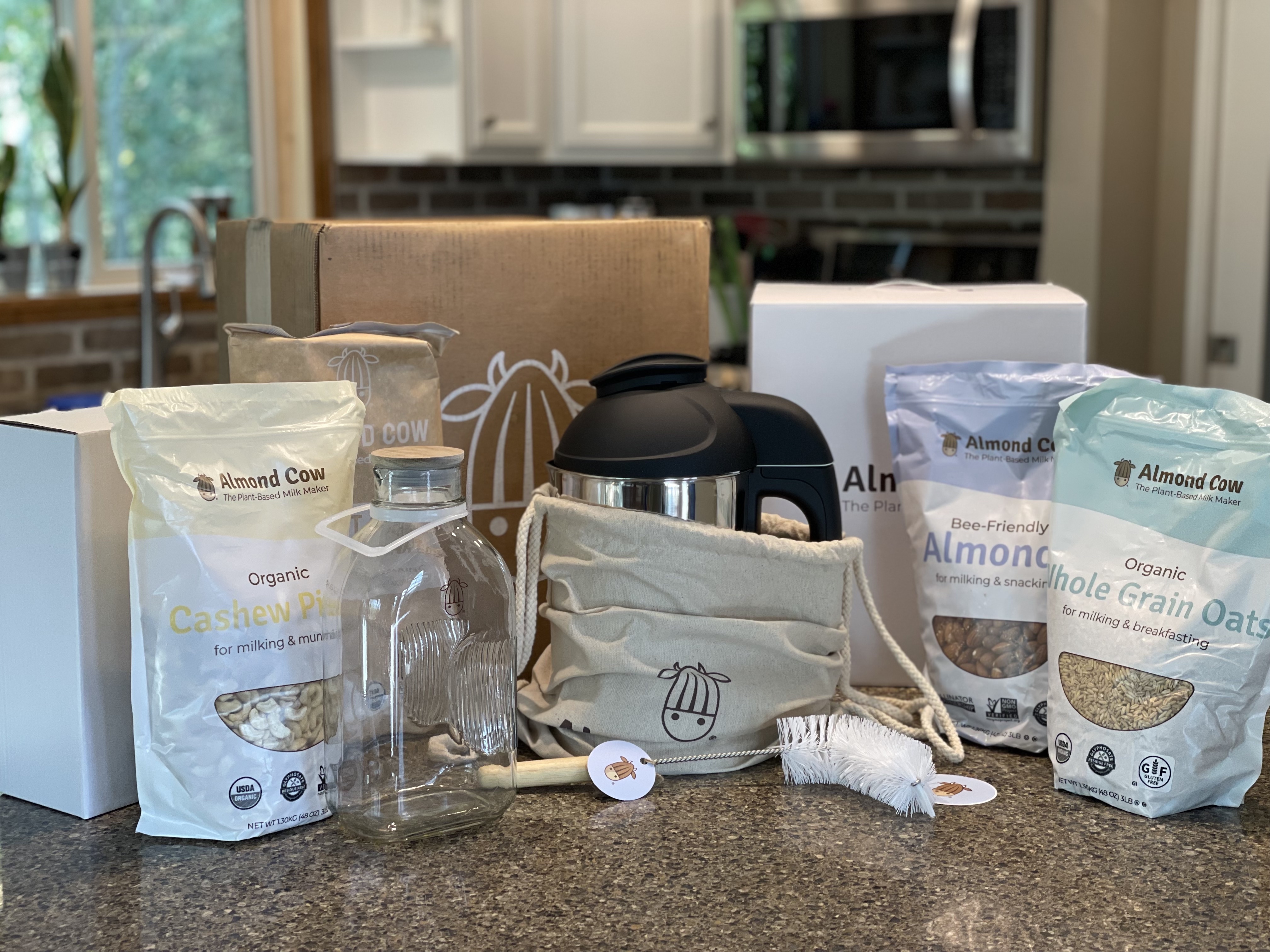 ---
More Than Almond Milk
Recipes can start with simple ingredients such as nuts, seeds, or grains, plus water, but thinking outside the box is equally rewarding. Mix different nuts, add some cacao or coconut for flavoring, a few figs for sweetener... the options are endless. I've already tried a few of the crafty recipes found on the Almond Cow website and now I'm starting to experiment using my own recipes. Here are a few I've tried so far:
More than milk:
Bourbon Peach Smash - Made with fresh peaches and mint, I'll be making this one often.
Keto Coffee - A beverage my vegan friends will love! Creamy, energizing and delicious!
Visit the Almond Cow website to find recipes for all kinds of plant-based milks, beverages, and infusions. Almond Cow being a zero waste advocate, they even offer recipes and ideas on how to use your pulp too!
---
Macaroni KID Reader Discount: Use code MACARONIKID to save $15 on the purchase of your Almond Cow!
Bring Home your Own Almond Cow
No more buying milk at the store. Get started with the convenience of making milk at home with the Almond Cow Plant-Based Milk Maker. Prices start at $195. Be sure to use code MACARONIKID at checkout for a $15 discount when you purchase the Almond Cow Plant-Based Milk Maker.
This article is sponsored by Almond Cow. Macaroni KID receives compensation from companies whose products and services we recommend to our audience. However, we only promote businesses we genuinely believe in and feel will appeal to our subscribers.